Stein's (very early) campaign ad compares first black Lt Gov to segregationist bomber, and other outrageous stories
Apparently current N.C. Attorney General Josh Stein is officially kicking off his campaign for governor. Everybody assumed he would eventually announce, but, maybe in a year or so. For some reason, he decided to make it official now, though, and kicked it off with an ad comparing North Carolina's first black Lt. Gov. Mark Robinson, who is Stein's likely Republican challenger, to segregationist bomb throwers who burned Stein's father's law practice down in 1971.
After telling the story of the bombing, Stein says that "Today, there's a different set of bomb throwers," with his voice playing over images of the Jan. 6 riots at the Capitol and the white nationalist Charlottesville, Virginia, rally.
The video then immediately cuts to former President Donald Trump introducing Robinson at a rally. Stein then talks about how "some politicians spark division, ignite hate, and fan the flames of bigotry," as Robinson speaks at the podium. It sounds like Stein is basically saying that if Robinson becomes the first black governor, it'd be the equivalent of having Bull Connor or David Duke sitting in the Governor's Mansion. But, of course Stein is still the one against sparking division, igniting hate, and fanning the flames of bigotry.
And what evidence does Stein bring to place a barrier-breaking black leader in the same "bomb-throwing" category as 1970s segregationists or Neo-Nazis rallying in Charlottesville? The ad makes that connection by playing news clips of Robinson in a church saying God made men to be the leaders, another saying that schools should keep "filth" about homosexuality and transgenderism away from young students, and another calling abortion a "scourge."
While these messages are controversial, Robinson was commenting on male leadership in reference to his church, not saying women can't lead in politics or business. Many mainstream churches continue to have a male-only clergy.
On the comments on gay and transgender lessons in school, this does reflect a clear difference between Robinson's views and those of most Democrats. But a Politico/Morning Consult poll in March of 2022 found 51% of Americans (including 37% strongly) favored Florida's Parental Rights in Education bill, which limited LGBTQ-focused lessons in elementary schools. Just 34% were opposed to the bill.
Stein might think that comparing a majority of Americans, including minorities like Lt. Gov. Robinson, to Klansmen is a winning strategy, but he risks alienating millions of parents who are tired of what they see as political indoctrination seeping into public education.
Those who oppose abortion and see it as a "scourge" are also mainstream Americans, not the equivalent of white nationalists. The 2022 Carolina Forward poll below shows there are more North Carolinians (37%) who want to increase restrictions on abortion than those who want to loosen the 20-week limit (28%).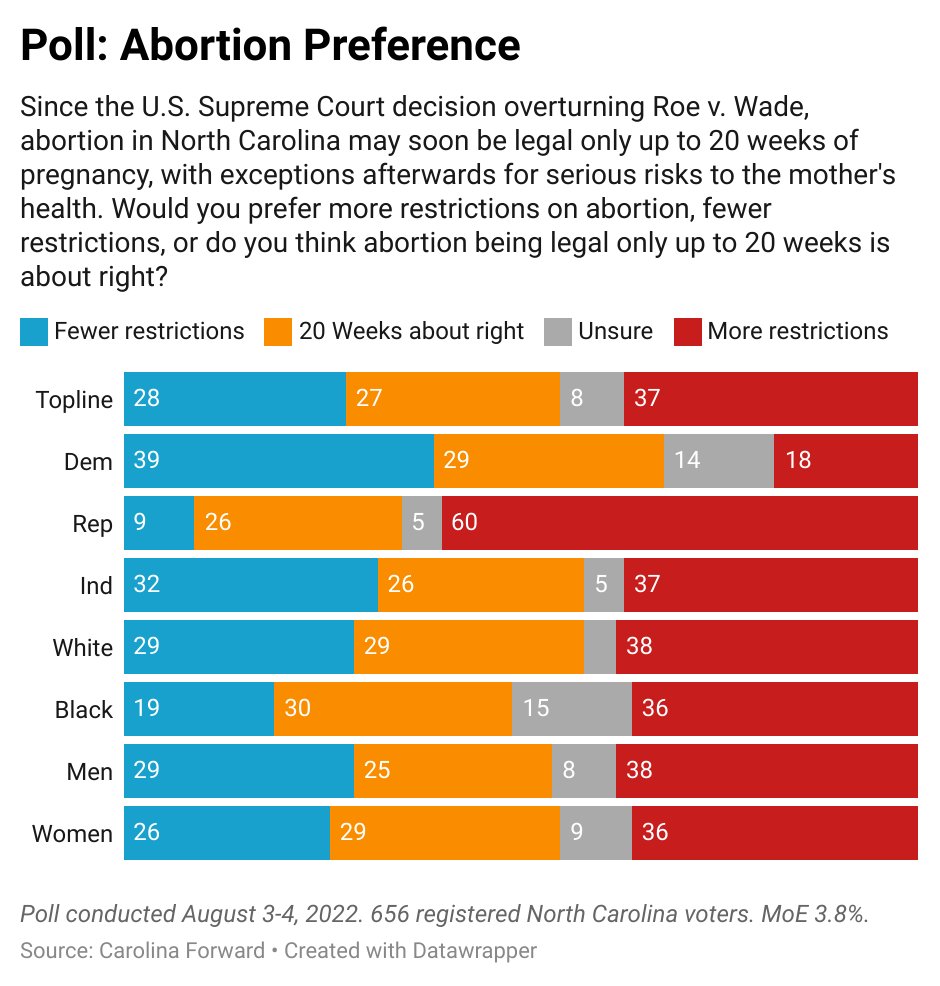 The ad reminded me of a similar effort by WRAL cartoonist Dennis Draughon that also compared Robinson to a Klansman. WRAL had to come out with a statement defending the cartoon because of all the blowback, which included Robinson and his wife hosting a tearful press conference. Who knows — maybe Draughon was a consultant on Stein's ad.
In other news this week, UNC Chapel Hill's faculty chair Mimi Chapman told N.C. Policy Watch that she is concerned about a policy that the UNC Board of Governors is considering. The policy would prevent certain ideological tests and questions when they are interviewing potential hires on UNC campuses.
In the interview, Chapman's concerns displayed exactly why this kind of policy is long overdue.
"We have a strategic plan at UNC-Chapel Hill. And the first pillar of it is building our community together," she said. "It talks a lot about having an inclusive, diverse, welcoming campus. And so if you ask someone to write a DEI statement as part of a search or if you ask questions in the course of an interview about how you approach these things, what do you do in your classroom to make sure that all students feel welcome and affirmed, what you do when there's a difficult conversation or wherever, that seems like part of that. I mean, what you're doing is saying, 'Is this person aligned with our values as an institution?'"
This all likely sounds completely reasonable to progressives, but conservatives recognize all the left-wing buzzwords for what they are. If I were asked to write a DEI statement to see if I were "aligned" with the values of UNC, I would be weeded out before they could finish reading the first sentence.
In 2022, a survey found that 95% of the political donations from UNC Chapel Hill's faculty went to Democrats. This suggests that political beliefs are taken into account somewhere in the hiring process. The UNC Board of Governors should be applauded for trying to bring some ideological diversity to the these institutions.
If political balance is too hard to achieve by banning political tests during hiring, maybe the board could look at something similar to what Gov. Ron DeSantis is doing in Florida. In recent weeks, DeSantis appointed six conservatives to the board of the New College, a publicly funded liberal arts school. One of those appointed, conservative activist Christopher Rufo, said it was about reversing the left's long march through the institutions.
If these institutions should be advocating certain values, as Chapman said, why can't at least some of them be based on conservative values, like liberty and Natural Law? North Carolinians as a whole lean slightly to the right, so many are tired of the overwhelmingly "progressive" nature of the public colleges and universities, which are funded with their tax dollars.