Threatening a civil war if Republicans win and other outrageous stories
Being a victim must be exhausting but it makes for some funny statements. For the record, I'm a big fan of women.
As many say now, "fund students, not systems."
Have you ever seen the German film "The Lives of Others?" If not, watch it. A great reminder of what happens when the government has too much power and turns against its people.
In some places today, even the conscience must submit to the state.
I assume one will be allowed to advertise eating bugs that is so hip now with the celebrities and other climate alarmists.
Griffin is the celebrity who held up a picture of Donald Trump's severed head. She believes partisan politics is more important than everything else in life.
Of course, I suppose she's implying Republicans will start a civil war if elected, but the wording could be construed either way, particularly since she's crazy. If that's the case, I think she gives the GOP way too much organizational credit. Republicans can't even restore any semblance of fiscal sanity to Washington even when they do have power. At any rate, ideologues do make the best clowns.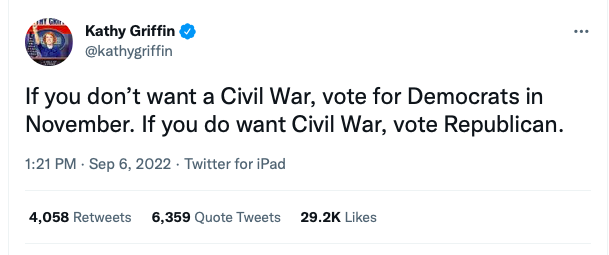 Some good news to cleanse the palate.