Poll: Robinson, Stein likely nominees for 2024 NC governor's race
Republican N.C. voters chose Robinson (54%) by a wide margin over other possible gubernatorial candidates.
Democratic field for governor was more mixed, with Josh Stein and Mandy Cohen at the top.
N.C. voters were split 44-44 on whether they preferred Biden or Trump.
On Nov. 28, left-wing non-profit Carolina Forward released early polling of what North Carolina's highest profile 2024 races might look like. And the results show close potential races between former President Donald Trump and current President Joe Biden for the White House and between Lt. Gov. Mark Robinson and Attorney General Josh Stein for the Governor's Mansion.
In a Republican primary, Robinson does not have much competition for the gubernatorial nomination, with 54% of respondents choosing the current lieutenant governor, as opposed to U.S. Sen. Thom Tillis (20%) and Treasurer Dale Folwell (4%). The preference for Robinson among Republicans was especially pronounced in rural areas (64%) and with men (61%), while in suburban areas (41%) and with women (49%), Robinson did not have quite as high support.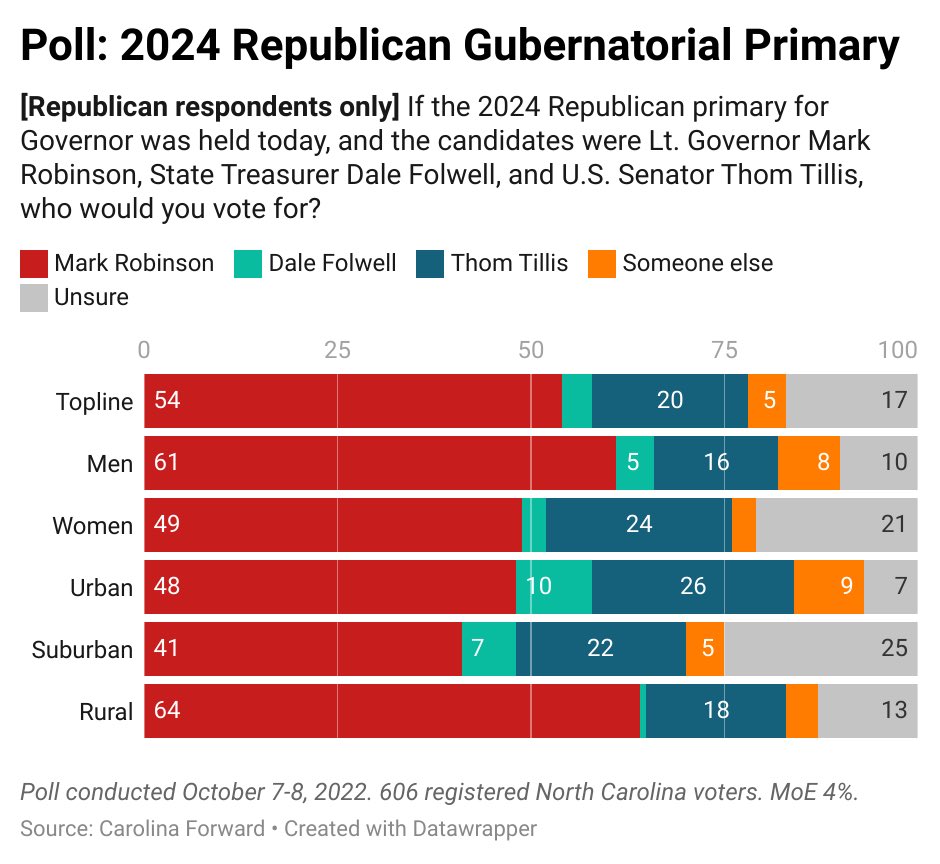 On the Democratic side, Carolina Forward found that the field was much more open, with Stein leading (22%), former secretary of N.C. Department of Health and Human Services Mandy Cohen second (18%), and newly elected U.S. Congressman Jeff Jackson trailing not far behind (12%). Another 39%, however, were undecided and 9% had another candidate in mind. Cohen led in urban areas and Stein in suburban and rural areas.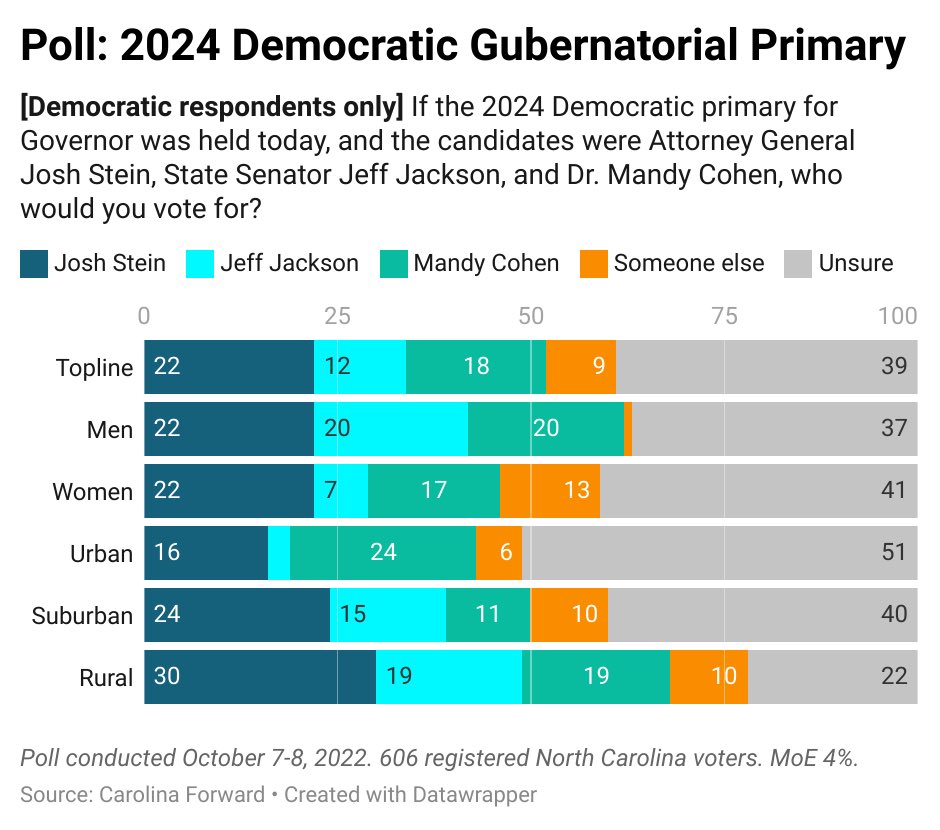 In a theoretical matchup between Robinson and Stein, Stein led 44-42, but 14% were undecided. Republicans, independents, men, and rural voters favored Robinson, while Democrats, women, suburban, and urban voters preferred Stein.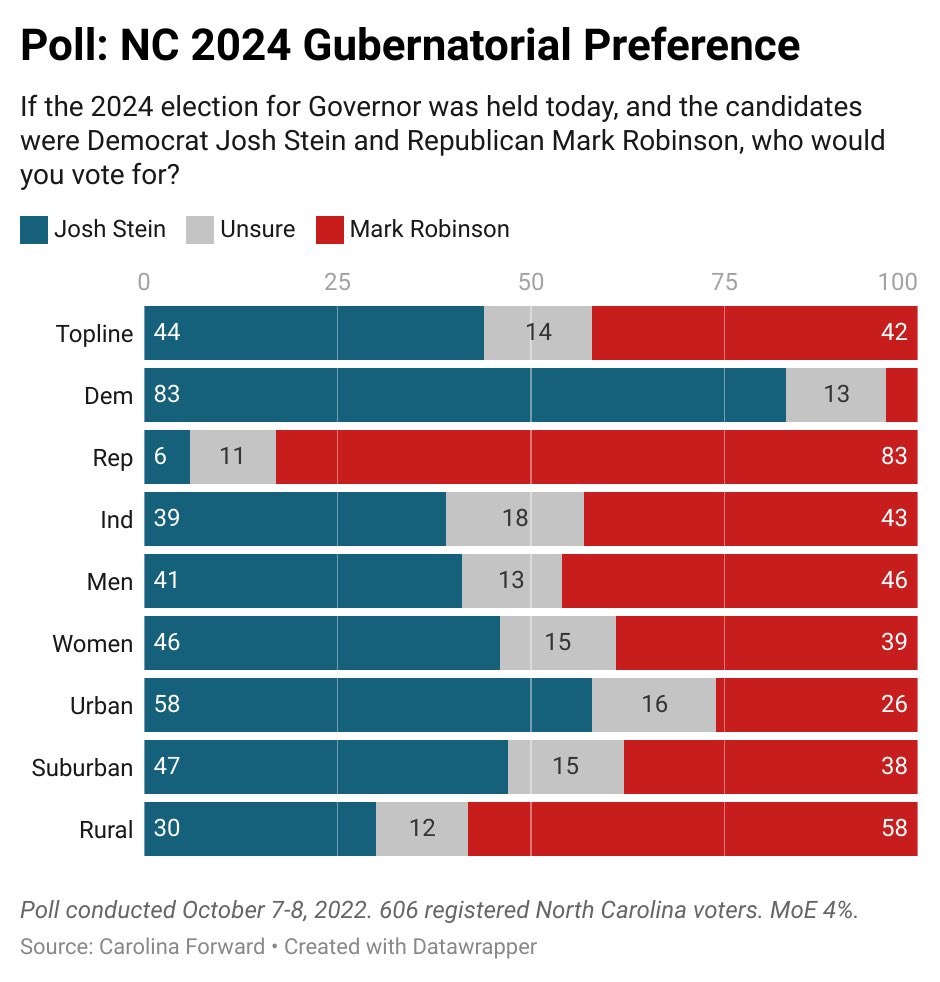 While voters consistently tell pollsters that they would prefer not to have a rematch of Biden-Trump in 2024, for the moment, those are the two main candidates who have announced their intentions of running. In this hypothetical matchup, N.C. voters are deadlocked 44-44 between the two, with a similar demographic breakdown as was seen in the gubernatorial question.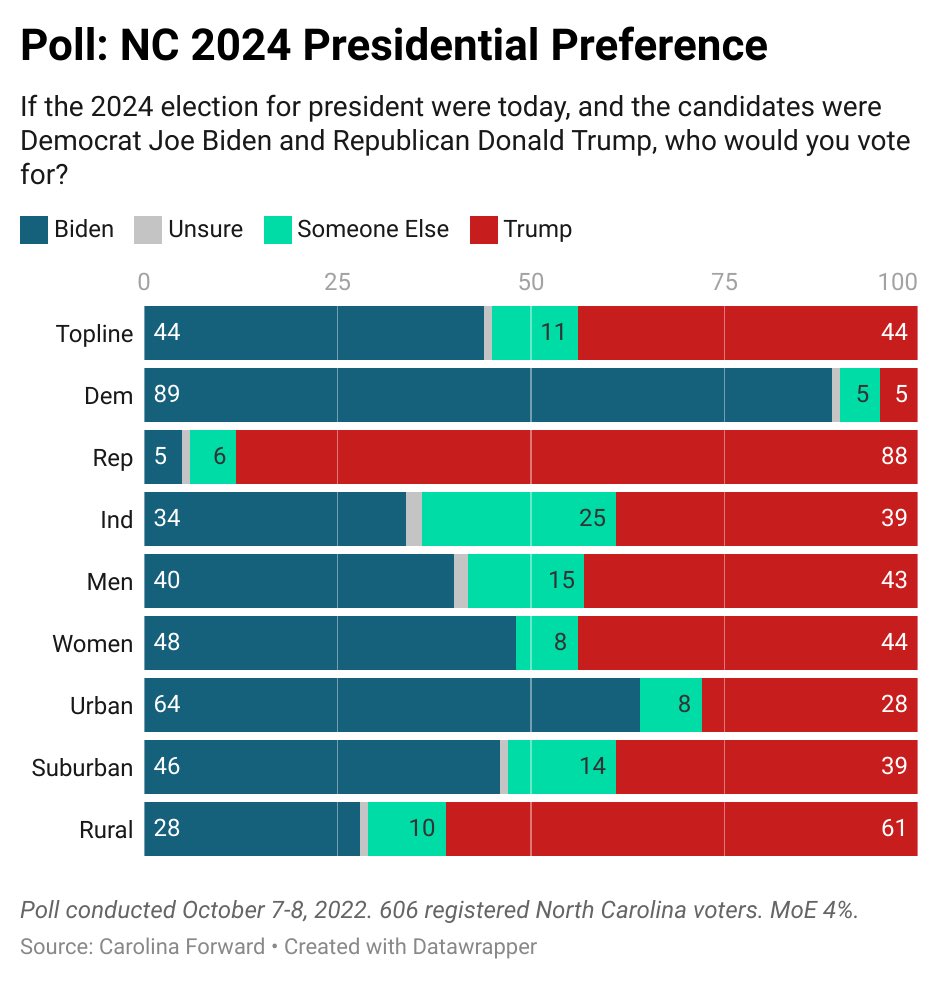 The growing Democratic advantage in suburban areas, seen in this polls as well as in recent election years, has been a concern for Republicans. Before the last few cycles, the suburbs had been seen as a Republican stronghold, but the party's center of gravity has now shifted to rural areas.
The Carolina Forward poll was taken among 606 registered N.C. voters a month before the 2022 elections, with a margin of error of 4%.