Democrats' share of NC early vote lags 2018, GOP slightly higher
As of Halloween morning, 1,160,747 ballots have been accepted in the N.C. 2022 midterms, and Democrats are seeing a 3.54% reduction in their usual early-voting advantage. The numbers can be viewed on the John Locke Foundation's Vote Tracker, which is constantly updated with data from the State Board of Elections (NCSBE).
Andy Jackson, director of the Civitas Center for Public Integrity, posted some insight on Twitter about the current state of the election, with eight days to go before Election Day.
Jackson said that the returns so far in 2022 ( 1,160,747) are higher than they were at the same point in 2018 (1,143,060), the last midterm election. This is the case despite there having been one additional day of early voting at this point in 2018.
The Civitas Center director also noted that while Democrats have maintained their typical early-voting advantage (which tends to balance out the Republicans' Election Day advantage), this year, the Democrats' vote share isn't as strong. Democrats have 39.36% of the vote, down 3.54%; Republicans have 30.9%, which is up 0.74%; and the unaffiliated have a 29.52% share, which is up 2.82%.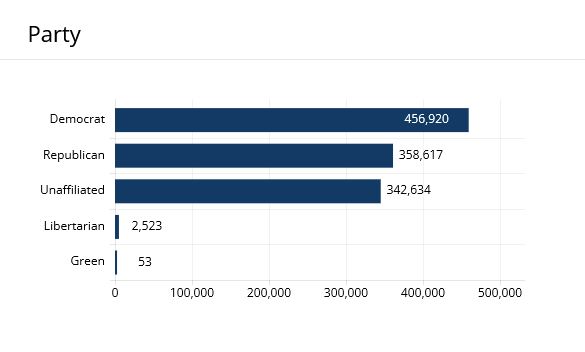 "What we don't know is how much of the difference is due to changes in turnout and how much is due to shifting voting patterns," Jackson said of these numbers. "Are fewer Democrats voting in 2022, are they voting later in the early voting period, or are they shifting towards election day voting?"
If unaffiliated voters continue to break towards Republicans, which polling suggests they are doing, this could mark an unusual early-voting period with more overall Republican votes than Democrat ones. Unaffiliated voters tell pollsters that they are most concerned with inflation, the overall economy, and crime and that they are more confident in Republicans' handling of these issues.
The latest John Locke Foundation poll found that unaffiliated voters now favor Republicans by 4% after favoring Democrats by 6% in the September poll.
Early voting ends Saturday, Nov. 5, and Election Day is Tuesday, Nov. 8.