New state House, Senate, and congressional maps finalized
The North Carolina General Assembly has passed three maps for the state House, state Senate, and US Congress, respectively. Redistricting is not subject to a veto from the governor, so the newly passed maps are now law.
The maps will be used for the 2024 elections. If they do not get thrown out in court, they will be used through the 2030 elections until the next decade's census is complete.
All three maps passed the legislature along party lines, with all Republicans voting in favor and all Democrats voting against.
The Congressional Map
Under new congressional map, Republicans would likely win 10 seats in 2024 and have a chance to win the northeastern 1st Congressional District (NC-1), while Democrats likely would win three seats and also have a good chance of holding onto NC-1.
In this scenario, Democrat US Reps. Valerie Foushee, Don Davis, Alma Adams, and Deborah Ross have clear places to run. However, Democrat U.S. Reps. Wiley Nickel and Jeff Jackson would likely have to primary someone from their own party if they wanted to stay in Congress. Democrat US Rep. Kathy Manning would need to run in a Republican leaning district.
Below are the new districts and how incumbents line up:
District 1: Don Davis, D-NC
District 2: Deborah Ross, D-NC
District 3: Greg Murphy, R-NC
District 4: Valerie Foushee, D-NC
District 5: Virginia Foxx, R-NC
District 6: Open; GOP-leaning
District 7: David Rouser, R-NC
District 8: Open; GOP-leaning
District 9: Richard Hudson; R-NC
District 10: Patrick McHenry; R-NC
District 11: Chuck Edwards, R-NC
District 12: Alma Adams, D-NC
District 13: Open; GOP-leaning
District 14: Open; GOP-leaning
THE STATE SENATE MAP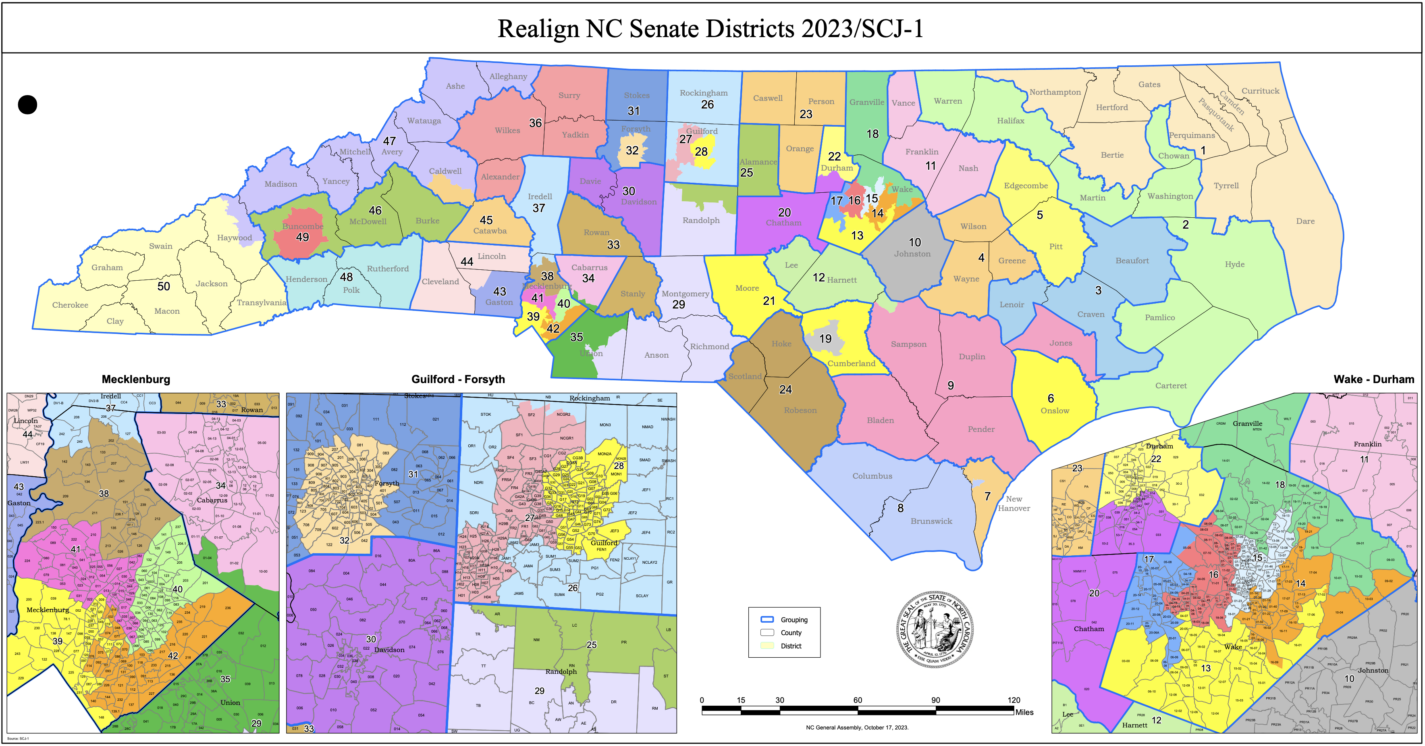 The John Locke Foundation recently released its annual Civitas Partisan Index scores for the legislative maps, which found there to be 28 Republican-leaning seats, 17 Democrat-leaning seats, and five toss-ups in the state Senate map.
Wake County would contain four solidly Democratic Districts (14, 15, 16, 17) and two "swing," with District 18 pulling in Granville County and voting for Republican Ted Budd over Democrat Cheri Beasley by 1.45% in the 2022 US Senate race. District 13 is the other "swing" district in Wake County, voting for Beasley by a 3.7% margin over Budd in 2022.
Mecklenburg County would contain four solidly Democratic districts (38, 39, 40, 41), one Republican district (37), and one swing (42). District 42 voted for Beasley by a 4.94 percent margin in 2022.
Another swing district, which was also the closest Senate race during 2022, is District 7 in New Hanover County. Republican Michael Lee squeaked out a win over Democrat Marcia Morgan.
Republicans will need to win all 28 Republican-leaning seats as well as two swing seats to win a supermajority in the state Senate.
THE STATE HOUSE MAP
The new state House map would yield approximately 69 Republican and 48 Democratic seats, with three being in the swing category, according to Civitas' CPI ratings.
However, state House districts are smaller, and political outcomes vary to a higher degree. Many of the "lean" Republican or Democrat seats could be won by either party, and political shifts and trends will influence certain districts in the future.
The state House map, HB 898, passed the legislature along partisan lines.
Under the House map, Republicans would need to win all 69 Republican-leaning seats as well as the three "toss-up" districts to reach the 72-seat threshold needed to win a supermajority.