Big spenders: NC Supreme Court races get some of the biggest ad buys in the nation
On Nov. 8, there will be 84 Supreme Court seats on the ballot in 30 states.
North Carolina's two state Supreme Court races are second only to Illinois in the list of highest spending on ad campaigns for state Supreme Court races nationwide. Republican and Democrat groups are funding ad campaigns to the tune of $50 million, with $14 million spent in North Carolina and $18 million in Illinois.
In North Carolina, Democrat Lucy Inman faces Republican Richard Dietz for the open Seat 3 on the high court, while incumbent Associate Justice Samuel "Jimmy" Ervin IV defends his Seat 5 against Republican challenger Trey Allen. The races have attracted national attention after the 4-3 left-leaning court shot down the General Assembly's congressional maps. The court is also considering the constitutionality of voter ID and the Leandro case dealing with education-spending and separation-of-powers.
With recent polling showing an uphill battle for Democrats in legislative races, party leaders and donors at the national level have zeroed in on court races, where a friendly judge could potentially hear future litigation over measures passed by Republican legislatures. However, Democrats' messaging machine phrases the strategy differently.
Issues like taxes, abortion, and redistricting have their attention because those are "where democracy in general is going to run through state courts," said Garrett Arwa, director of campaigns for the National Democratic Redistricting Committee, to bloomberglaw.com.
The National Democratic Redistricting Committee was launched by former U.S. Attorney General Eric Holder, of the Obama administration, and in recent years has helped fund court cases across the country challenging states' electoral maps. So far this cycle, the committee has dumped $1 million into state Supreme Court races where it is likely their group, or groups they support, could end up in front of the judges.
Labeling the left's litigation efforts as tackling "threats to democracy" is consistent with the Democrats' theme in recent weeks. In President Biden's address to the nation on Wednesday night, he pushed a new leading talking point that Republicans are "election deniers." Biden suggested a vote for them is a vote against democracy.
"It's estimated that more than 300 [GOP] election deniers are on the ballot all across America this year," said Biden in comments at a campaign event in Florida. "This is not about me. … It's about the durability of our democracy."
Obama repeated the theme in comments Thursday, saying "Democracy as we know it may not survive" if Republicans win.
Republicans say that what Democrats have been unable to win at the ballot box in recent years, they've attempted to win in court. In their cases, Democrats accuse Republicans of suppressing votes. In North Carolina, the fight over voters' 2018 passage of a constitutional amendment requiring voter ID is still tied up in court, along with school funding lawsuits, fights over electoral maps, and changes to whether felons should have to complete probation before they can restore their voting rights. Similar cases dot courtrooms across the country.
The litigious tactic has made judicial elections critical to both sides of the aisle.
According to data analyzed by AdImpact, the $57 million spent on ads for the state supreme court races nationwide are split, $31 million by Republican groups and $24 million by Democrat groups. Most of the money, $47 million, is focused on Illinois, North Carolina, Ohio, and Michigan. About $5 million is being spent by the Republican State Leadership Committee.
"We are laser-focused on educating voters about how conservative judges are the best choice for improving their financial and physical security, which are the two most important things driving Americans to the polls this November," spokesman Andrew Romeo said.
In North Carolina's state Supreme Court races, outside groups have spent about $6 million for Inman or Ervin, while outside Republican groups have spent around $8 million for Dietz and Allen. Inman and Ervin have, overall, raised more and spent more on their campaigns, particularly in the months following the U.S. Supreme Court's overturn of the Roe v. Wade abortion precedent. Allen and Dietz, however, lead their Democrat opponents in recent polls.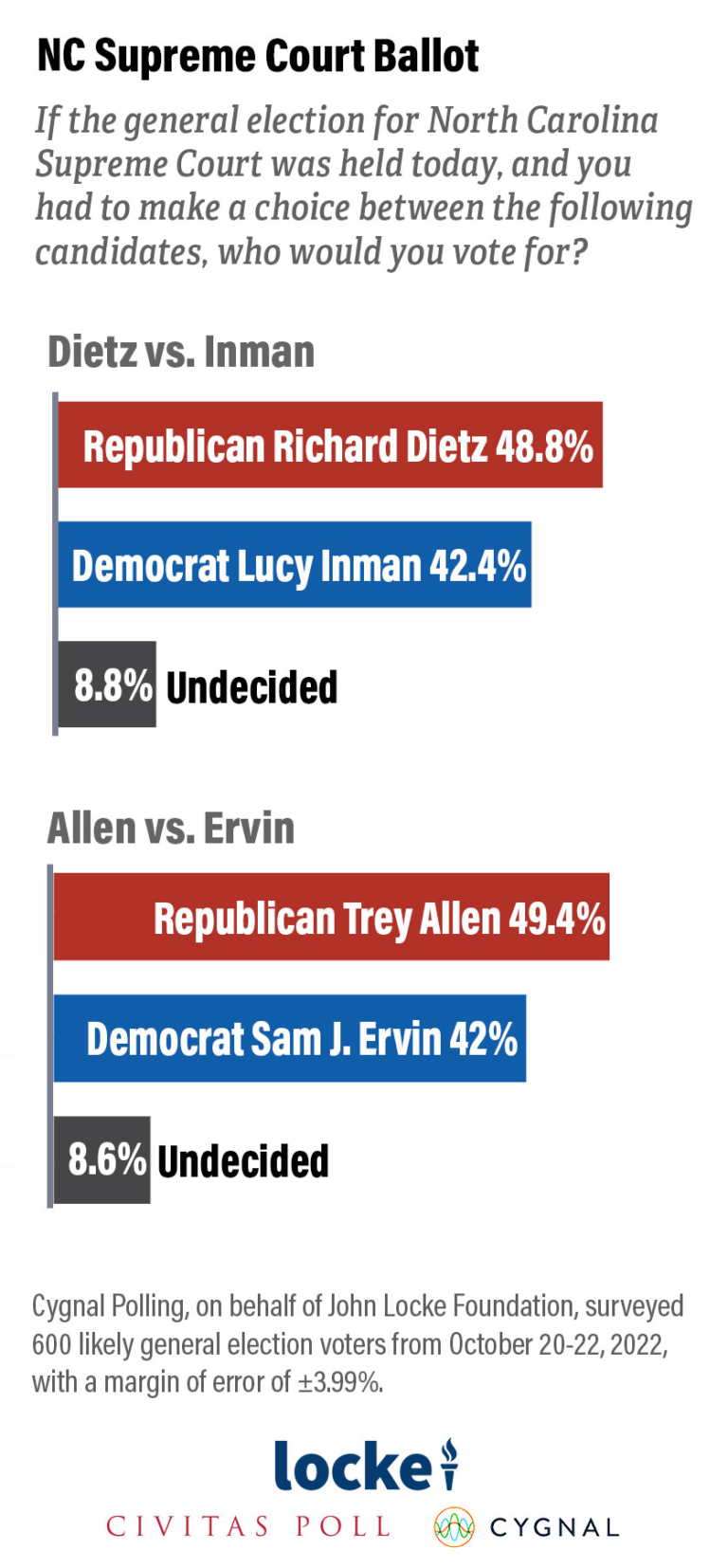 Overall spending on ads in the 2022 midterm election is setting records, according to AdImpact, which estimates that ad spending nationwide will hit $9.7 billion.
"Through the end of July 2022, this election cycle is outpacing 2020 by nearly $700 million dollars," the data tracking company says.
In the 2018 midterms, $3.96 billion was spent on ads.