New maps for Congress and state legislature released
On Wednesday, state lawmakers released newly drawn maps for congressional districts and state House and Senate districts.
The exact lines for North Carolina's new congressional districts appear less certain, with two options presented on Wednesday. Both options would nearly guarantee Republicans win at least 10 of North Carolina's 14 seats.
Maps below indicate the partisan lean of the two maps. They were illustrated by @UniteCarolina using criteria from Dave's Redistricting, a website that analyzes maps and data from around the country.
The two proposed Congressional Maps
Republican lawmakers drew this first map in a way such that Republicans would likely win 11 out of the 14 congressional seats in 2024, while Democrats would likely win the other three.
Democrats Jeff Jackson, NC-14; Kathy Manning, NC-6; and Wiley Nickel, NC-13; would reside in Republican districts, while Democrats Don Davis, NC-1; and Valerie Foushee, NC-4; would be "double-bunked," meaning they would live in the same district while both being incumbents of the same party. Members of Congress do not have to live in the congressional district they represent.
In addition to North Carolina's current seven Republican congressional representatives, there would be four opportunities for new Republicans to go to Congress under this map.
Under the second map, Republicans would likely win 10 congressional seats in 2024 and have a chance to win the northeastern CD1, while Democrats likely would win three seats and also have a good chance of holding onto CD1.
In this scenario, Foushee, Davis, and fellow incumbents Alma Adams and Deborah Ross have clear places to run. However, Nickel and Jackson would likely have to primary someone from their own party if they wanted to stay in Congress. Manning would need to consider other options.
Republican contenders recently outpaced vulnerable Democrats in the latest fundraising report.
The state senate map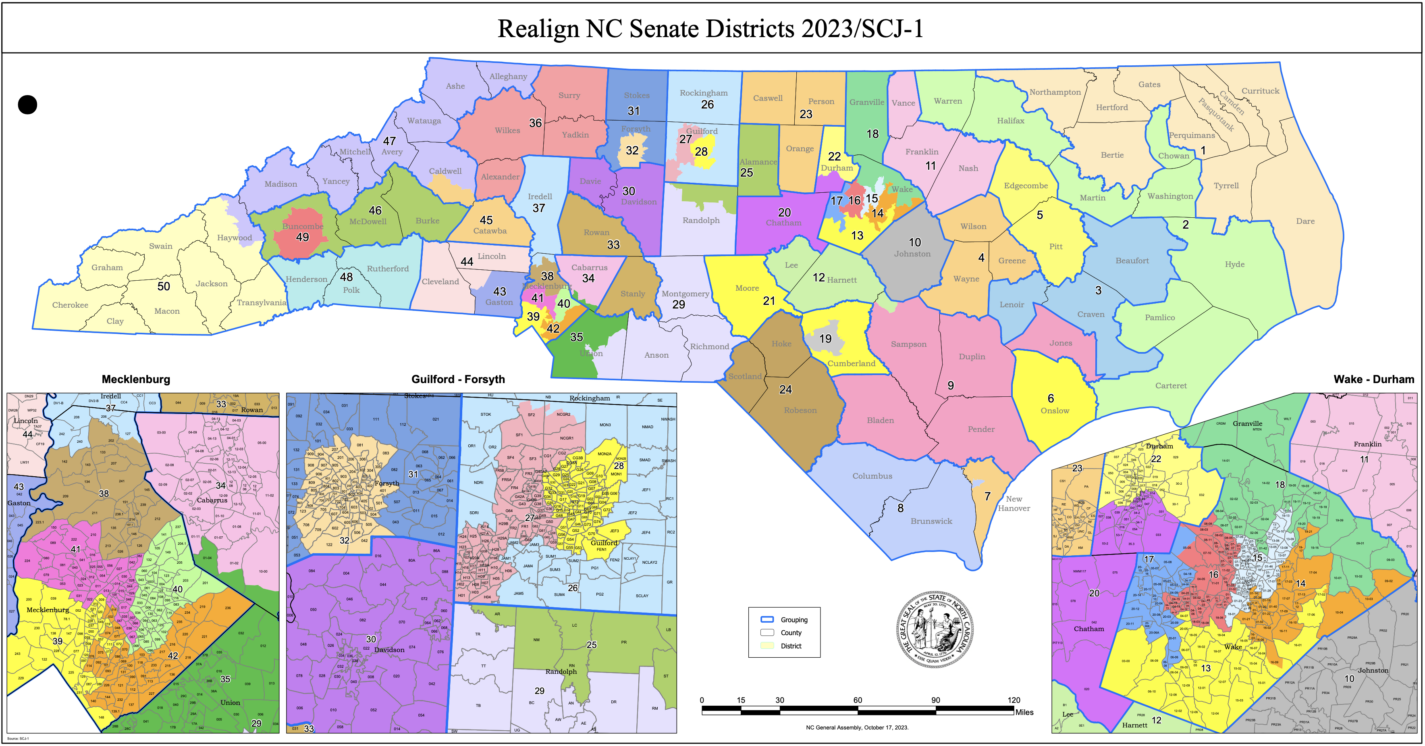 The new state Senate map would yield approximately 29 Republican and 17 Democratic seats, with four being in the swing category. Political prognosticators may differ slightly on which seats should be considered likely Republican, likely Democrat, or swing; however, for these purposes, "swing" was any district where the US Senate race was decided by less than 5%.
Wake County would contain four solidly Democratic Districts (14, 15, 16, 17) and two "swing," with District 18 pulling in Granville County and voting for Republican Ted Budd over Democrat Cheri Beasley by 1.45% in the 2022 US Senate race. District 13 is the other "swing" district in Wake County, voting for Beasley by a 3.7% margin over Budd in 2022.
Mecklenburg County would contain four solidly Democratic districts (38, 39, 40, 41), one Republican district (37), and one swing (42). District 42 voted for Beasley by a 4.94 percent margin in 2022.
The remaining swing district was also the closest Senate race during 2022: District 7, in New Hanover County. Republican Michael Lee squeaked out a win over Democrat Marcia Morgan.
Under this map, Republicans would need an average-to-good election cycle to win a supermajority in the Senate chamber.
The state House Map
The new state House map would yield approximately 67 Republican and 44 Democratic seats, with nine being in the swing category. State House districts are smaller, and political outcomes may vary to a higher degree.
Certain Republican seats could swing by more than 5% from cycle to cycle and be won by Democrats, and vice-versa.
Under these maps, Republicans would need a good year to win a supermajority in the House chamber.