How MVP Southgate can help bridge gap from coal to zero-emissions nuclear
On July 27, the US Supreme Court vacated the stay imposed by the Fourth Circuit Court of Appeals against the Mountain Valley Pipeline (MVP). The pipeline project is about 94% completed and was originally supposed to be finished by 2020, but desperate court challenges and permit delays had pushed its completion date to 2026. The decision allows the MVP to resume its construction. 
The court's action is potentially very important for North Carolina, because it opens the door to the MVP Southgate expansion into central North Carolina. 
Right now North Carolina has only one natural gas pipeline, Transco, and it is fully subscribed. So one of the fastest-growing states in the country already has maxed out its natural gas supply. North Carolina would also especially be in danger should Transco be compromised or subject to a ransomware attack like Colonial Pipeline (which also affected North Carolina the worst).
This good news angers environmental extremists, wealthy eco-lobbies, and the politicians they support, including Gov. Roy Cooper, Rep. Pricey Harrison, and Sen. Graig Meyer. But why is somewhat a mystery. Anyone invested in getting North Carolina to zero-emissions electricity generation responsibly would see how important MVP Southgate is.
The North Carolina Utilities Commission's initial "Carbon Plan" aims to retire all of North Carolina's coal-fired electricity generation by 2035. That's over 9,000 megawatts (MWs) of power generation — one-fourth of North Carolina's generation capacity.
Coal is a baseload source of electricity, which means it's an "always-on" source upon which the entire electric grid relies. It would be foolish to try to replace a baseload source with something that's incapable of being always on — like weather-dependent solar and wind.
More importantly, it would be dangerous. Temperature extremes, such as the high 90s we experienced in July or the bitter cold during the Christmas Eve blackouts, mean high demand for electricity. Coal is not only reliable, it is dispatchable — a term meaning it can be called upon at a moment's notice to produce more electricity.
If we're going to replace coal, then North Carolinians need some other dispatchable source. But is there a dispatchable, zero-emissions, baseload source of electricity generation?
There is. Nuclear is not only the most efficient source of electricity, it is also a zero-emissions resource. Because it's dispatchable, unlike other reputed "zero-emission" resources like wind and solar, nuclear doesn't require backup from diesel generators or coal- or gas-fired combustion turbines. As an added environmental bonus, nuclear also requires the least amount of land. 
Nuclear power plants take more time, however, to build. Meanwhile, natural gas is a low-emissions resource that, like coal and nuclear and unlike wind and solar, is capable of being relied upon as a dispatchable, baseload source. Natural gas is regarded as a "bridge" resource between high-emissions coal and zero-emissions sources, especially nuclear. Prior to the Supreme Court's green flag for MVP, though there was too much uncertainty in North Carolina's natural gas supplies to expect it to serve as a capable bridge source here. 
For these reasons, the model "Least Cost Decarbonization" scenario that Locke's Center for Food, Power, and Life presented to the NC Utilities Commission (NCUC) in 2022 would delay coal power plant closings long enough for new nuclear power plants to come online. Our scenario would most fully uphold state law (the law behind the Carbon Plan) by meeting the law's requirements of maintaining grid reliability and charting the least-cost path to compliance with reaching "carbon neutrality" by 2050.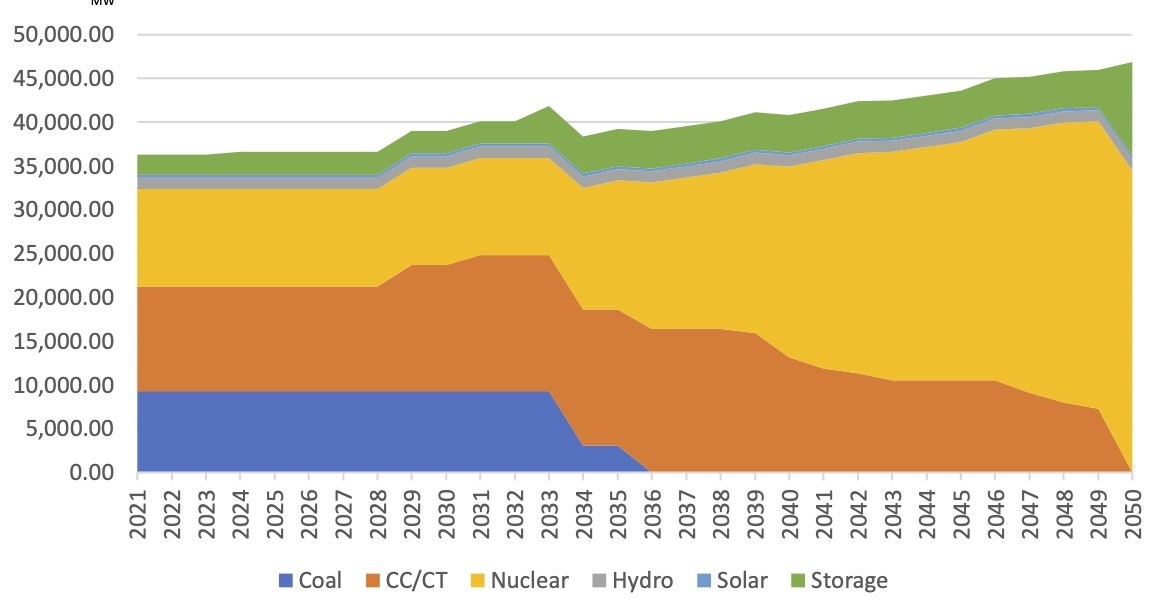 The NCUC's initial Carbon Plan stated that new natural gas facilities in the near term are "essential to achieving the Interim Target [70% reduction of carbon dioxide emissions], while maintaining or improving reliability, and doing so along a least cost path." Nevertheless, the NCUC cited the "significant uncertainty" of future access to additional natural gas resources "if the MVP is never completed or not timely completed." So the initial NCUC plan limited the amount of new natural gas capacity to only 2,000 MWs of combined-cycle and combustion turbine generation — hardly sufficient to replace the over 9,000 MWs of coal-fired generation the plan would shut down. 
The Carbon Plan also cited Duke testimony before the NCUC to the effect that "delay of the new natural gas-fired resources would limit its ability to retire its existing coal units."
Prospects have changed since the Supreme Court lifted the stay. Allowing completion of MVP makes possible the MVP Southgate expansion into North Carolina, reducing the uncertainty over whether there can be sufficient natural gas resources to serve as the bridge between baseload coal power and baseload zero-emissions nuclear. 
It's good news for those of us who want North Carolinians to continue to enjoy reliable, baseload generation as the NCUC plans to retire working baseload power plants. It ought to be good news to those who want a faster transition to carbon-neutral electricity generation.